Angry Birds Rio Online
Angry Birds Rio is now available for you to play free online.  Angry Birds Rio Online has much better graphics than its predecessor Angry Birds Online and is well worth a play!  In Angry Birds Rio you use your mouse to control the slingshot and you sling the Angry Birds at cages filled with Birds characters from the film Rio to try and release them.  You are awarded up to three stars a level depending on your score.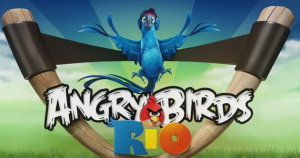 PLAY ANGRY BIRDS RIO ONLINE
Angry Birds Rio is a new edition of the Angry Birds game released to coincide with the popular animated film Rio.  In Angry Birds Rio the Angry Birds have been captured from their world and taken to Rio de Janeiro where they are locked up alongside the characters from the Rio film.  The Angry Birds get angry, break out of their cage and then proceed to rescue the other birds that are trapped.  There are no green pigs in Angry Birds Rio as the aim of the game is to release the trapped birds.  The enemies in Angry Birds Rio are the Marmosets and Nigel.
The Marmosets have been sent to defeat the birds.  In the game they appear in different sizes and can be destroyed by being hit by a bird.  Unlike the pigs they can roll back the right way after being knocked down.
Nigel captures the angry birds and it the angry birds main enemy in Angry Birds Rio.  An interesting fact is that Nigel is the first boss in the angry birds series that can move freely on his own.
The Angry Birds Rio game is like Angry Birds in the sense that new Episodes and levels are continually being added to the game.  At the moment the game contains five episodes (Smuggler's Den, Jungle Escape, Beach Volley, Carnival Upheaval and Airfield Chase) each of which has 30 levels.  A further sixth episode is due for release in November 2011.  A Bonus episode called Golden Beachball has also been released by Rovio Mobile.
We hope you enjoy playing Angry Birds Rio on freegames.org  - why not tell us what you think of it in the comments section below?