Bouncing Balls Games
Featuring: Bouncing Balls, Bubble Cannon 2, Bubble Spinner, Bubble Shooter & Poxxle.
Sometimes the simplest gameplay ideas are the best - and these games are proof of that!   Your  goal is to eliminate all of the balls by using a canon to match 3 or more of the same color.  Each game listed below offers a slightly different variations of this theme.  If, like us, you enjoy this kind of casual gameplay give them a try!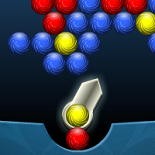 Bouncing Balls
Eliminate all of the descending balls to pass each level.  As you progress through the levels the gameplay becomes more challenging as new colors are added, there are more balls to eliminate and they start moving faster and faster..  The key here is speed as there is no penalty for missing shots.  How high can you score and what level can you reach?

Bubble Cannon 2
One thing in particular separates this from the other games on the list - the balls bounce off each other!  That's right instead of sticking these balls bounce.  The goal is to simply make balls touch like colored balls 3 times to make them dissapear.  The catch is you have a limited number of shots and only get new ones when you manage to eliminate some of the existing ones.  The gameplay is very challenging - good luck!
Bubble Spinner 2
Are you bored of the balls always sitting there - in the same place you shot them?  How about adding a twist - literally!  All of the balls stick together in this game but the whole clump of them is able to rotate.  You can use this to your advantage by using your shots to spin them around to get access to the balls you want to shoot.  This novel twist puts a whole new spin on the genre!
Bubble Shooter
This game is pure straightforward bubble popping.  The bubbles don't move anywhere, there aren't any power-ups and there aren't levels.  The challenge comes from the fact that when you miss shots more bubbles are added.  That makes accuracy incredibly important.  If you are good enough it is possible to clear the entire screen.  Can you do it?
Poxxle
Poxxle is very similar to Bouncing Balls.  It does however have  some nice relaxing music and a neat edition to the gameplay - you can move the cannon!  Use the left and right arrows on your keyboard to move it from side to side.  Gameplay is a bit faster and harder than Bouncing Balls from the outset so the moving cannon comes in very handy!