Physics Puzzle Games
Physics Puzzle Games
Puzzle games are a genre of game that place an emphasis on puzzle solving and physics puzzlers use physics to make the game more challenging and realistic. Physics puzzle games are massively popular in online flash games and mobile games. You have only got to look at the popularity of the iPhone application Angry Birds to see how popular physics puzzle games are.
Here at freegames.org we love physics puzzle games. In fact, physics puzzle games are our favorite genre of free online games.
Here are a collection of the best free online physics puzzle games ever released:
Super Stacker 2

Super Stacker 2, the sequel to Super Stacker, is a very popular online physics puzzle game.  Played by millions of people worldwide Super Stacker 2 has a well deserved place in the Top 10 physics puzzlers of all time.  It may also be one of the best online stacking games on the web.  In the game you use your mouse to carefully stack your smiley faced shapes into a tall tower.  The tower must stay standing whilst the countdown timer counts down 10 seconds.  If the shapes fall off the screen then you lose.  In the game there are 40 well designed levels to beat as well as four additional speed runs to complete.  The levels start off easy but by the end of the game become incredibly difficult.  Super Stacker 2 also has its own level editor for you to design your own levels and share them with other Super Stacker 2 players.
Red Remover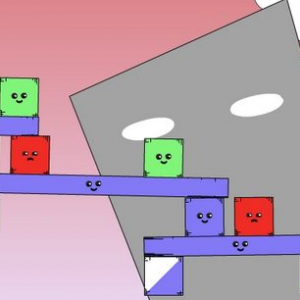 Red Remover is a highly innovative physics puzzle game that uses four different planes of gravity. To beat a level you must use your mouse to remove all the Red Blocks on the screen without letting the green blocks fall off the screen. Sounds easy? Trust me, it isn't! If you get stuck, however, the game developer has made a comprehensive walkthrough to help. Since the release of the original Red remover two very popular player packs and a top 100 selling Red Remover iPhone app have been released. You can design and share your own levels using the Red Remover level editor and who knows, your level may even feature in future player pack editions of the game for the world to see!
Play Red Remover Player Pack 1
Play Red Remover Player Pack 2
Splitter 2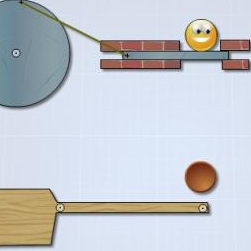 Splitter 2 is the much improved sequel to Splitter. In the game you guide the yellow smiley face to the exit by splitting objects and letting physics do the rest of the work. There are over 32 levels in the game and you can even make your own levels using the puzzle editor. Each level can be solved a number of ways so you may be able to come up with your own new solutions to the puzzles. Splitter 2 is highly addictive that will give your brain a heavy workout.
Electric Box 2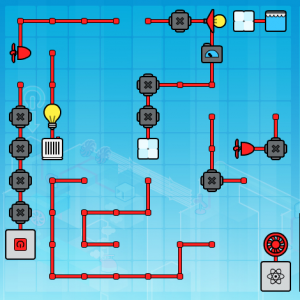 Electric Box 2 may be the world's most electrifying physics puzzle game. Your goal is to get electricity from one point to another point. To do this you use your mouse to place a variety of items on the grid. In order for the different items to work certain requirements must be met. Once you are happy with your configuration you turn it on and see what happens! In addition to the levels in the game there is also a level editor so you can create and share your own levels. Electric Box 2 is mental gymnastics that will really make you think outside the box.
Little Wheel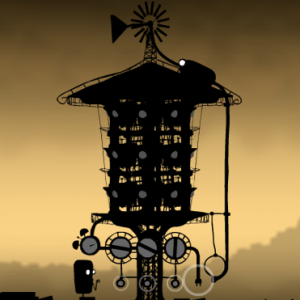 Once upon a time there was a world full of living robots. One day, however, there was a catastrophic accident in the main power generator that caused this robotic world to fall into a deep sleep. After ten thousand years a chance lightening strike wakes up one sole robot who then sets out to bring back life to his world. Although this game is relatively short and straightforward it is well worth a play!
Totem Destroyer

Totem Destroyer is an elegant physics puzzle games that requires you to use your mouse to destroy a target number of blocks without letting the golden idol statue fall and crack. Different blocks have different properties - some can't be destroyed whilst others are bouncy. Totem destroyer, with only 25 levels, is a relatively short game. However, since the release of Totem Destroyer a sequel, Totem Destroyer 2, has been released. This game contains more than 100 levels and has many more blocks with different properties to the first game. If you like Totem Destroyer then the sequel is also worth a play!
Ragdoll Cannon 2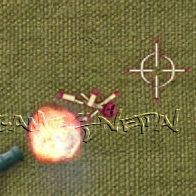 Ragdoll Cannon 2 is the sequel to Ragdoll Cannon. Ragdoll Cannon 2 is a physics based shooting game in which you use your ragdoll as a missile to hit bullseye targets. Ragdoll Cannon 2 has 70 levels complete so will keep you busy for a while. This isn't a game for stickman lovers as your ragdoll will get beaten time after time after time.
Civiballs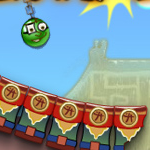 Civiballs is an immensely popular and quirky physics puzzle game in which you must get the spectacle wearing colored balls into the correct vases. To do this you must cut chains and use cannons and then let physics do the rest. To be successful you must firstly cut the chains in the correct order and at the correct time. The game is set in three different civilizations: Egypt, Greece and China and the levels start off easy but quickly become much more frustrating. What are you waiting for? Give it a try now!
Cover Orange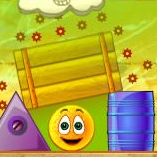 You are an orange and you must protect yourself from lethal rain. You do this by strategically balancing objects on the screen to shield yourself. Cover Orange is an exciting physics puzzle game suitable for all ages. Since the release of cover Orange a sequel, Cover Orange 2, has been released as well as some Cover Orange player packs - so it you like Cover Orange there are plenty of levels available to play. Some of the levels are incredibly easy, some funny and some are infuriatingly difficult. Who would have thought a citrus fruit could be so much fun!
Fantastic Contraption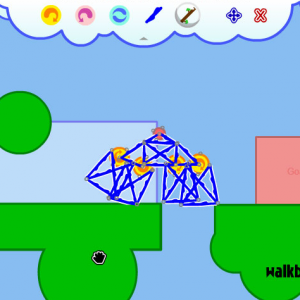 Fantastic Contraption is an online physics puzzle game where you use items available to you to build machines that you can use to solve each level. To solve the level you simply need to use your contraption to get the pink things to the other pink things. The game is innovative and very well thought out and will amuse you for hours. Once you have built your fantastic contraptions you can save them and share them with your friends. You can purchase extra features for the game but the free version is equally as enjoyable.
Play Fantastic Contraption
Do you think these are the best physics puzzle games of all time? Have we left any out? Please feel free to comment below!